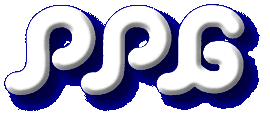 System 100
System 300
1002/1020
1003 Sonic Carrier
Wavecomputer 340
350 Sequencer
Wavecomputer 360
Wave 2.0
Wave 2.2
Wave 2.3
Waveterm A/B
390 Drum Unit
Wave 2.V

F.A.Q.
PPG CD-ROM
PPG Mail List
Misc
Events
Downloads
Links

Paul.Maddox

Synth.net



Demos
Two tribes
Wave 2.3 #1
Wave 2.3 #2
PRK-fd
Waveterm
LINKS
Here You will find links to PPG related web sites, if you know of any more please email me, and I'll gladly add you to the list below.
PPG Instruments Home, Lots of info on the whole PPG range.
Unofficial PPG Users Group, more info on the PPG range, mainly Wave/WaveTerm.
Basement Studio WaveTerm page, Has a WaveTerm C project for the PC.
IO Tech, has some info on PPG servicing and other synths as well.
Till Koppers pages, Another usefull page, has some great stuff on the waldorf wave and user manuals.
Hermann Seib's PPG pages, Has some documents and history on these synths.
PPG mailing list, A list for users and fans of these great synths.
Synthnut New site, which looks very promising.
Kenton , Make Midi interfaces, includeing PPG retrofits.
Synth.Net , The ultimate Synthesiser resource on the net (our kind hosts).